EDEN FOREST

Eden Forest Villa, CChemin D'Acomat
Guadeloupe
97116 Pointe-Noire

EDEN FOREST VILLA is located on the Leeward Coast, in the region of Basse-Terre, at Pointe-Noire, between Bouillante and Deshaies. Thus you are at 5 minutes walk from the Caribbean beach, 10 minutes by car from the beach of Malendure (Cousteau Reserve), 15 minutes from the beach of Grande Anse (largest in Guadeloupe) at Deshaies.

In the middle of the National Park, you can also discover the different rivers, Saut d'Acomat (5 minutes by car), the Crayfish Waterfall (15 minutes) and visit the zoological park (10 minutes), the Cocoa House (2 minutes), the Botanical Garden (10 minutes).

You will relax in your swimming pool or jacuzzi in your accommodation after your days of discovering the island. You will find calm and pleasure.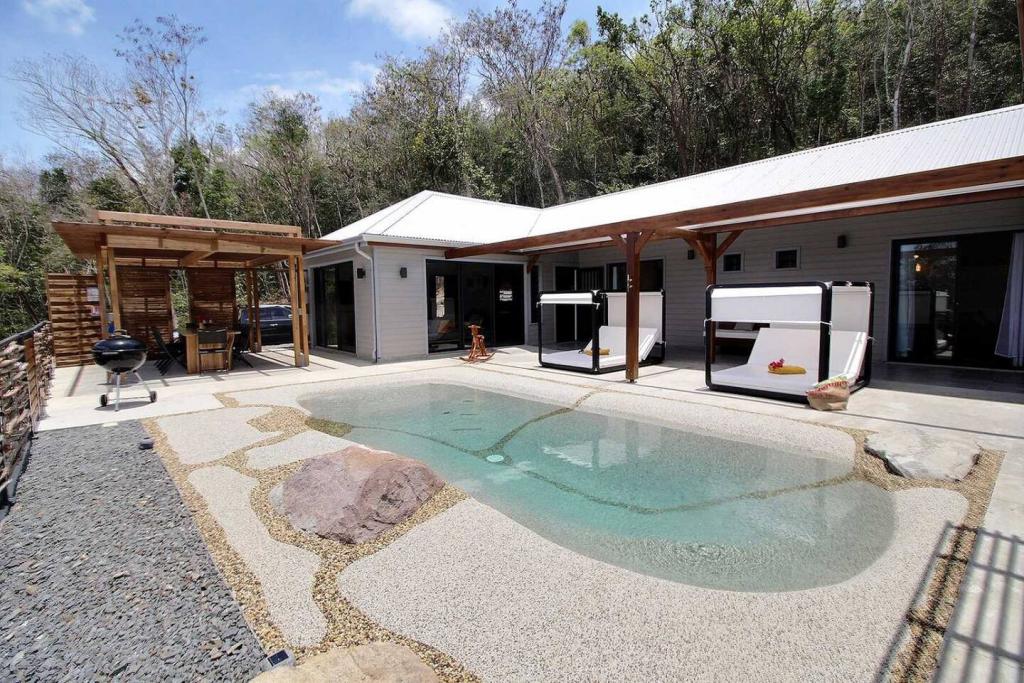 SERVICES AND FACILITIES INCLUDED
Sun lounger

BBQ

Wi-fi

Spa pool

Private pool

Beach nearby

Garden

Family rooms

Air conditionning

Car park

OFFERS
Villa

Price (per night) {{ bestDayPrice[6247].price }}€ {{ bestDayPrice[6247].discountPrice }}€

up to -{{ bestDayDiscount[6247].discount }}%

VILLA 8 sleeps

5 rooms | 4 rooms | 4 bathrooms

Characteristics:

VILLA 8 sleeps
5 rooms | 4 rooms | 4 bathrooms

Offer description:

Villa offering quality services located in the heart of nature, 4 bedrooms, fully equipped kitchen, veranda with sea view, air conditioning in the rooms, television, wifi . Offers an excellent comfort to its guests for a dream stay.

Services and facilities :

Sofa | Included
Table | Included
Chairs | Included
Sun lounger | Included
BBQ | Included
Equipped kitchen | Included
Dishwasher | Included
Washing machine | Included
Expresso coffee machine | Included
Filter coffee maker | Included
Microwave | Included
Electric kettle | Included
Oven | Included
Fridge | Included
Iron | Included
Wardrobe | Included
Private bathroom | Included
Hairdryer | Included
Toiletries | Included
Walk in shower | Included
Travel cot | Included
Television | Included
Flat TV | Included
Wi-fi | Included
Private pool | Included
Pool towel | Included
Beach nearby | Included
Garden | Included
Non smocking rooms | Included
Family rooms | Included
Air conditionning | Included
Balcony terrace | Included


Our rates: {{ bestDayPrice[6247].price }}€ {{ bestDayPrice[6247].discountPrice }}€ per night

Lodge

Price (per night) {{ bestDayPrice[6248].price }}€ {{ bestDayPrice[6248].discountPrice }}€

up to -{{ bestDayDiscount[6248].discount }}%

VILLA 3 sleeps

2 rooms | 1 room | 1 bathroom

Characteristics:

VILLA 3 sleeps
2 rooms | 1 room | 1 bathroom

Offer description:

Come and taste the comfort of a comfortable lodge for 3 people. Luxury services are offered to you: Equipped kitchen, veranda with sea view, small garden and your own spa.

Services and facilities :

Sofa | Included
Table | Included
Chairs | Included
Sun lounger | Included
Sitting area | Included
BBQ | Included
Mosquito net | Included
Equipment for ironing | Included
Kitchenet | Included
Filter coffee maker | Included
Microwave | Included
Electric kettle | Included
Fridge | Included
Iron | Included
Private bathroom | Included
Hairdryer | Included
Walk in shower | Included
Travel cot | Included
Flat TV | Included
Wi-fi | Included
Spa pool | Included
Spa towel | Included
Beach nearby | Included
Garden | Included
Family rooms | Included
Air conditionning | Included
Balcony terrace | Included


Our rates: {{ bestDayPrice[6248].price }}€ {{ bestDayPrice[6248].discountPrice }}€ per night

Lodge Vanille

Price (per night) {{ bestDayPrice[6249].price }}€ {{ bestDayPrice[6249].discountPrice }}€

up to -{{ bestDayDiscount[6249].discount }}%

VILLA 2 sleeps

1 room | 1 room | 1 bathroom

Characteristics:

VILLA 2 sleeps
1 room | 1 room | 1 bathroom

Offer description:

Come and enjoy the comfort of a comfortable lodge for 2 people. Luxury services are offered to you: Equipped kitchen, veranda with sea view, small garden and your own spa.

Services and facilities :

Sofa | Included
Table | Included
Chairs | Included
Sun lounger | Included
BBQ | Included
Kitchenet | Included
Filter coffee maker | Included
Microwave | Included
Electric kettle | Included
Mini fridge | Included
Wardrobe | Included
Private bathroom | Included
Hairdryer | Included
Walk in shower | Included
Travel cot | Included
Flat TV | Included
Wi-fi | Included
Spa pool | Included
Spa towel | Included
Beach nearby | Included
Garden | Included


Our rates: {{ bestDayPrice[6249].price }}€ {{ bestDayPrice[6249].discountPrice }}€ per night

Contact Information
Eden Forest
Eden Forest Villa, CChemin D'Acomat Guadeloupe
Pointe-Noire
France
+590 0690 747 767