Les Hauts de la Baie
Route de la plage Grande-Anse
Guadeloupe
97136 Terre de Bas

Creole house, charming, wooden, 150 m² organized around a large living room with antique mahogany furniture and leather lounge, meet there furniture and Art -new or African-inspired objects, objects and paintings acquired over time and travels. They contribute to the peaceful and warm atmosphere of this house, which is permanently ventilated through the slats of windows without glass.
The kitchen is the meeting place of this house, both open to the gallery, the deck and the living room, designed in the traditional way, with a piano with 5 butane gas burners, two electric ovens including a grill, cast iron grill plate for grilling, an American refrigerator and all the equipment useful for preparing family or friendly friendly meals.
Les Hauts de la Baie has the particularity of being a few steps from the beach of Grande Anse Bay, which faces the island of Terre-de-Haut. You can enjoy a permanent show of old rigging sailing with elegance, the abundant vegetation and the sounds of the animals that populate this corner of paradise, in Terre-de-Bas, the authentic island of the Saintes archipelago.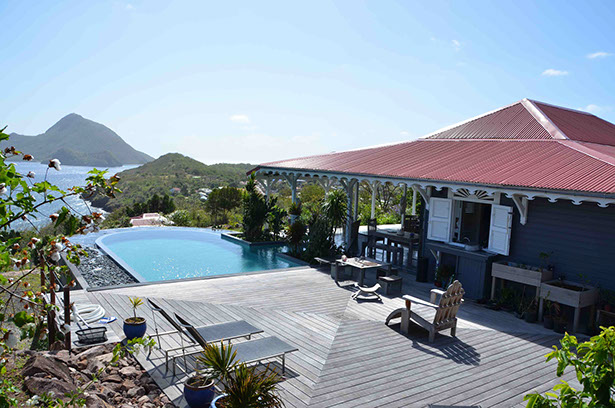 INCLUDED
Sofa

Table

Chairs

Desk

BBQ

Equipment for ironing

Equipped kitchen

Dishwasher

Washing machine

Filter coffee maker

Microwave

Electric kettle

Oven

Electric cooktop

Fridge

Iron

Private bathroom

Hairdryer

Bath towel

Flat TV

Wi-fi

Private pool

Pool towel

Beach nearby

Non smocking rooms

Air conditionning

Balcony terrace
Contact Information
Les Hauts de la Baie
Route de la plage Grande-Anse Guadeloupe
Terre de Bas
France
+590 690 53 46 64