Island Hopping
Moving around the archipelago
Planning a trip to Guadeloupe islands is undeniably planning several trips in one. To experience the archipelago at its best, it goes without saying that an outing to one of our islands is a must. Marie-Galante, Les Saintes and La Désirade are essential destinations. To get there, the most common way is to take the ferry. The lines are scheduled but the frequency will vary with the seasons.
We strongly advise you to spend one or more nights in the outer islands to get the most out of your trip, but day trips are always possible.
Getting to Marie-Galante
Going to Marie-Galante is the assurance of a change of scenery. The island has remained very authentic and offers many beaches but also numerous heritage sites. The island's restaurants offer a varied and diversified cuisine. Hotels, gites, villas or lodges are the types of accommodation you will find on the island. To get there, the main port of departure is Pointe à Pitre, Gare Maritime de Bergevin (ferry station). Three ferry lines operate to and from Marie-Galante : Express des Iles, Jeans for Freedom and Val Ferry.
If you live in the east of Grande-Terre, you are closer to the port of Saint-François, from where a daily shuttle leaves for Grand-Bourg de Marie-Galante. The Comatrile operates the link. The ferry leaves the port of Saint-François at 7.:15 AM and the port of Grand-Bourg at 4:35 PM.
Getting Désirade
To go to Desirade, the only port to this island is Saint-François. Two ferry lines cross from Pointe des Châteaux to the port of Beauséjour in La Desirade: La Comatrile and Babou One. There are daily connections. The island of Desirade is the least touristy of the archipelago so if you dream of white sand just for you in the shade of coconut trees, you will be happy on this island. Beautiful hikes are also possible and the gites, hotels and restaurants will answer your desires of disconnection.
Getting to les Saintes
The main port to Les Saintes is Trois-Rivières. Two ferrylines, CTM DEHER and Val Ferry operate return trips. L'express des îles also provides a link to Les Saintes from Pointe à Pitre, but only two days a week. Les Saintes is actually an archipelago of which two islands are inhabited. If you want to go from Terre-de-Haut to Terre-de-Bas, catch the shuttle back and forth.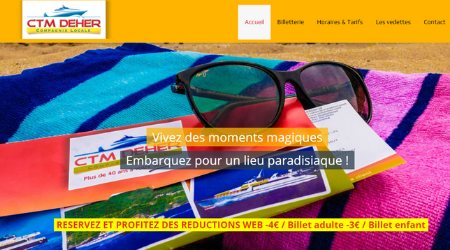 Experience magical moment Embark on a paradise-like place
Daily connections
Departure from Trois-Rivières Arrival at les Saintes
Other connections
The Comatrile operates between Marie-Galante and Les Saintes (Terre-de-Haut). Departure is from Marie-Galante at 8:20 A.M. and departure from Les Saintes to Marie-Galante at 3.30 P.M..
From Basse-Terre to Grande-Terre and vice versa
To go from Basse-Terre to Grande-Terre, although public transport is being developed, such as the Karulis buses and boats, it is still advisable to book with a car rental company to discover the richness of these two islands. The roads are good even if the harsh climate makes them difficult. The traffic rules are strictly identical to those in France.
The delivery of your vehicle is often at the airport Pôle Caraïbes, it should however be noted that many car rentals also propose the vehicles at the ferry stations or even where you stay in each of the 6 inhabited islands.
Major car rental companies operate in the archipelago but smaller domestic car rentals also offer personalised services.