The must see of the Guadeloupe Islands
THE MUST-SEE OF THE GUADELOUPE ISLANDS...
Travelling to THE GUADELOUPE ISLANDS is a distinctive multi-destination opportunity. The archipelago is rich in experiences. Naming Guadeloupe conjures up immediately magnificent beaches, but it is also an emerald gem for hiking adventures and rainforest activities that leave long-lasting memories. Climbing the volcano to the highest peak of the islands remains a must. Diving here is still cosy with no congested spots catering for all diving levels.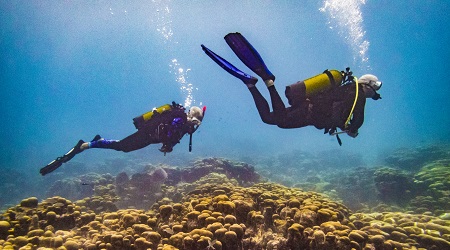 Dives of THE GUADELOUPE ISLANDS
Under the arches, on a wreck, first dive or deep sea
Discover the most beautiful spots
THE TOP 5 ATTRACTIONS...
THE GUADELOUPE ISLANDS provide many activities for all age groups for a sure change of scenery in a relax and friendly atmosphere. For families, the destination provides many recreational parks. They are so wide-ranging that you are sure to find what suits your family best. The archipelago is the ideal atmosphere for relaxing especially with a proverbial local cocktail or fruit juice, and even more so in a scenic beach bar. The islands are also paradises where you can pretend being Robinson on his island. And to make you believe so even more, experience the quaint rain forest lodges in total harmony with nature.
The Tops 5 for sportmen ...
Diving, hiking, kayaking, sailing, canyoning, ... There is something for the dormant sportsman in you. The islands all offer incredible moments whether at sea or land-based. Diving and snorkelling are favorites here and can be practiced in uncrowded spots and sometimes even to the sound of whales singing. If you prefer trainers to flippers, you will not be stranded, as there are many walks and hikes available, whatever your level.
Top 5 of culture...
Guadeloupe's culture is a rich cultural mix. The history of the archipelago can be read in its landscapes and the sites bear witness to a very visible past. Numerous initiatives tend to enshrine this past heritage through a wide array of museums. There are huge ones, like the Memorial ACTe, and smaller, more intimate ones. As our nature is also our treasure, it is lavishly showcased in exotic botanical gardens, exhibiting the rare and common species of our tropical territories.