Apartment/Studio/Bungalow
GÎTE ROUTHIERS

Routhiers

97130 Capesterre belle eau

You will stay in the South East of Basse-Terre in a green and restful setting where a set of 3 independent lodgings of recent construction is nestled, close to the third waterfall of Carbet in which you will relax in a magnificent circular basin. You will be ideally located to visit some monuments testifying of the history and the culture of Guadeloupe, such as the Hindu temple, the old house of St John Perse, but also culinary with the visit of the Kassaverie without forgetting the visit of the distillery of the Rhum Longueteau...
Lovers of hiking will be delighted with the discovery of trails leading to waterfalls and majestic rivers, but beach lovers will be equally delighted by visiting Roseau beach.
Back at your lodging, you will relax in the sauna and then unwind in your private spa or enjoy the common pool.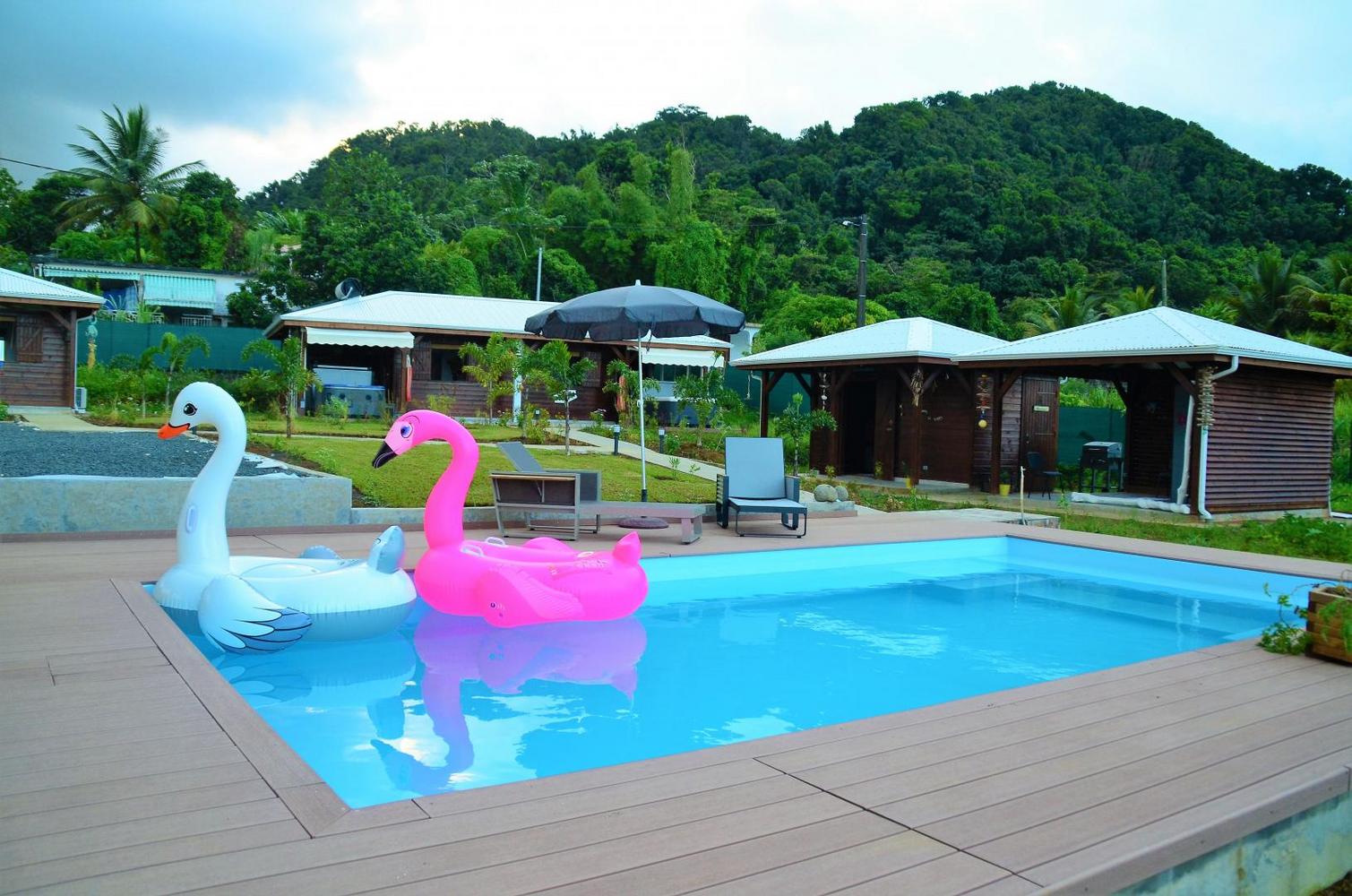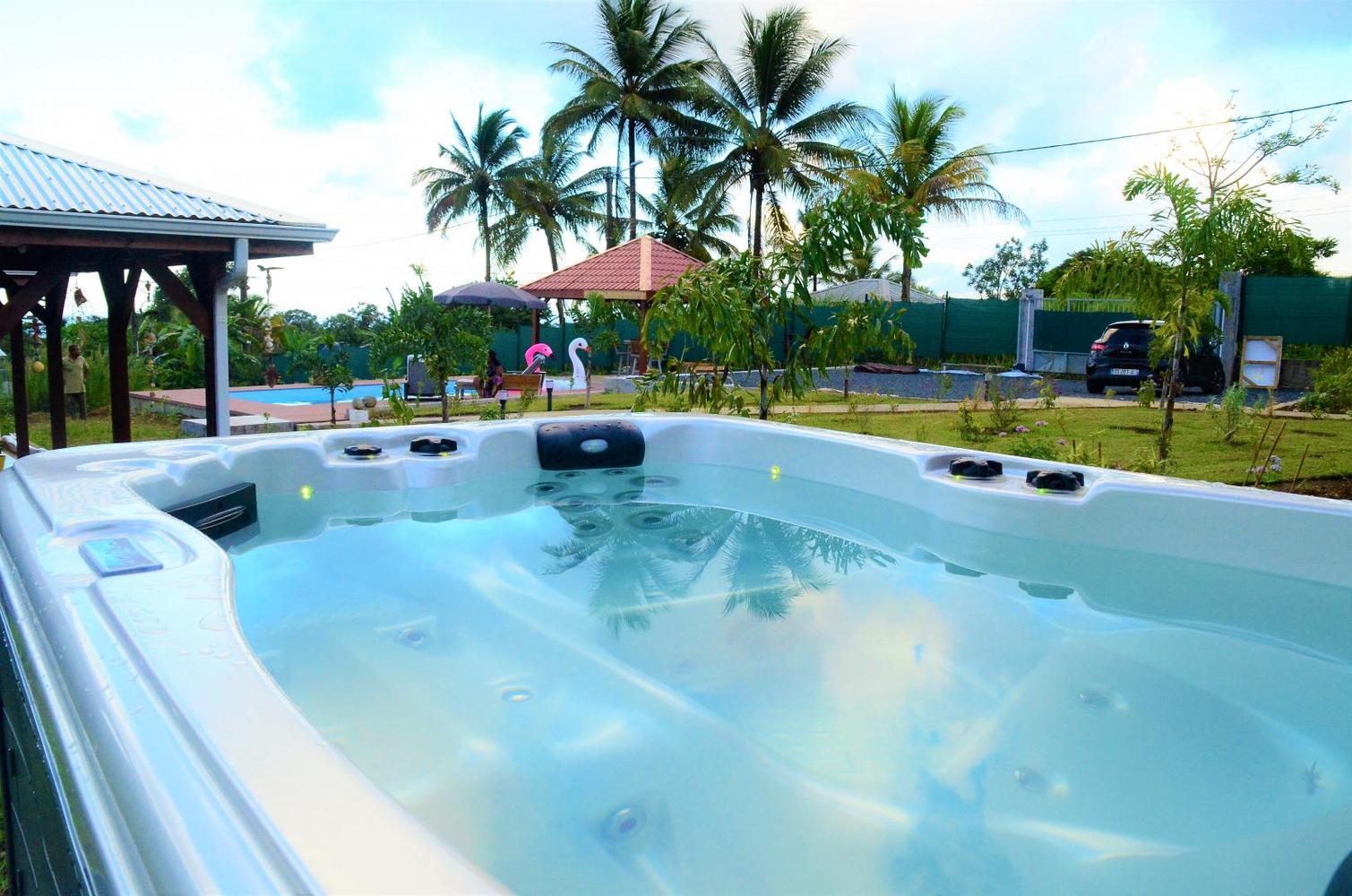 SERVICES AND FACILITIES INCLUDED
BBQ

Wi-fi

Sauna

Private pool

Garden

Air conditionning

Car park

OFFERS
Maurene 4478 - 1

Price (per night) {{ bestDayPrice[6588].price }}€ {{ bestDayPrice[6588].discountPrice }}€

up to -{{ bestDayDiscount[6588].discount }}%

BUNGALOW - GÎTE 2 sleeps

2 rooms | 1 room | 1 bathroom

Characteristics:

BUNGALOW - GÎTE 2 sleeps
2 rooms | 1 room | 1 bathroom

Offer description:

In the countryside, Murène of 20m2 (adjacent to the cottages 4479 and 4480), consists of : - an air-conditioned room (bed 140), TV(tnt), Wifi - a shower room/WC - a fully equipped kitchen on a covered terrace : refrigerator, microwave, washing machine. Private Spa. Sauna and shared swimming pool. Parking, BBQ, garden. Sheets and towels provided. Existence of a water tank. Possibility of hikes and visits with a guide. The first breakfast is offered.

Services and facilities :

BBQ | Included
Equipped kitchen | Included
Washing machine | Included
Microwave | Included
Fridge | Included
Shower | Included
Television | Included
Wi-fi | Included
Sauna | Included
Private pool | Included
Garden | Included
Air conditionning | Included
Balcony terrace | Included


Our rates: {{ bestDayPrice[6588].price }}€ {{ bestDayPrice[6588].discountPrice }}€ per night

Ange 4479 - 1 Room

Price (per night) {{ bestDayPrice[6590].price }}€ {{ bestDayPrice[6590].discountPrice }}€

up to -{{ bestDayDiscount[6590].discount }}%

BUNGALOW - GÎTE 2 sleeps

2 rooms | 1 room | 1 bathroom

Characteristics:

BUNGALOW - GÎTE 2 sleeps
2 rooms | 1 room | 1 bathroom

Offer description:

In the countryside, Ange of 20m2 (adjacent to cottages 4478 and 4480), consists of : - an air-conditioned room (bed 140), TV(tnt), Wifi - a shower room/WC - a fully equipped kitchen on a covered terrace : refrigerator, microwave, washing machine. Private Spa. Sauna and shared swimming pool. Parking, BBQ, garden. Sheets and towels provided. Existence of a water tank. Possibility of hikes and visits with a guide. The first breakfast is offered.

Services and facilities :

BBQ | Included
Equipped kitchen | Included
Microwave | Included
Oven | Included
Fridge | Included
Shower | Included
Television | Included
Wi-fi | Included
Sauna | Included
Private pool | Included
Garden | Included
Air conditionning | Included


Our rates: {{ bestDayPrice[6590].price }}€ {{ bestDayPrice[6590].discountPrice }}€ per night

Requin 4480 - 1 Room

Price (per night) {{ bestDayPrice[6593].price }}€ {{ bestDayPrice[6593].discountPrice }}€

up to -{{ bestDayDiscount[6593].discount }}%

BUNGALOW - GÎTE 2 sleeps

2 rooms | 1 room | 1 bathroom

Characteristics:

BUNGALOW - GÎTE 2 sleeps
2 rooms | 1 room | 1 bathroom

Offer description:

In the countryside, Shark of 20m2 (adjacent to the cottages 4478 and 4479), consists of : - an air-conditioned room (bed 140), TV(tnt), Wifi - a shower room/WC - a fully equipped kitchen on a covered terrace : refrigerator, microwave, washing machine. Private Spa. Sauna and shared swimming pool. Parking, BBQ, garden. Sheets and towels provided. Existence of a water tank. Possibility of hikes and visits with a guide. The first breakfast is offered.

Services and facilities :

BBQ | Included
Equipped kitchen | Included
Washing machine | Included
Microwave | Included
Fridge | Included
Shower | Included
Television | Included
Wi-fi | Included
Sauna | Included
Private pool | Included
Garden | Included
Air conditionning | Included
Balcony terrace | Included


Our rates: {{ bestDayPrice[6593].price }}€ {{ bestDayPrice[6593].discountPrice }}€ per night

Spoken languages:French, Creole, English
Hotel location
Activities nearby